Flow chart of GGP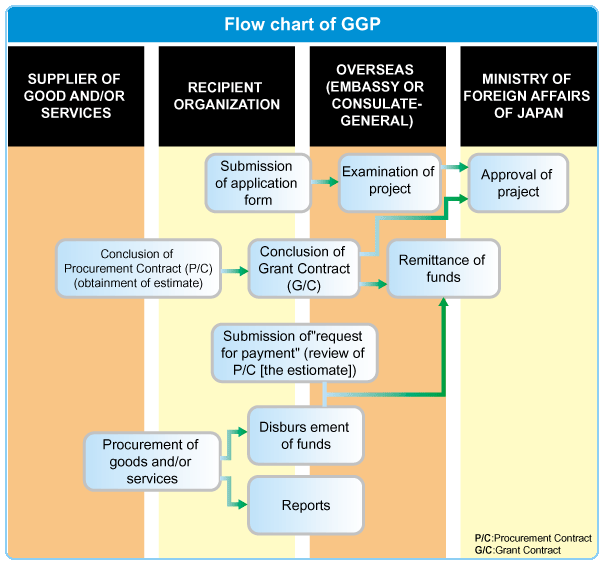 Introducing Braille printers to the Vietnam Blind Association of Ho Chi Minh City
We presented our Multi] and [Pro] Braille printers to the Vietnam Blind Association (HBA) in Ho Chi Minh. We also presented a training programme on handling, repairing and maintaining equipment and a total of 5 Braille printers were started up. They will print Braille textbooks and etc. in Ho Chi Minh City and surrounding area. One can easily input Vietnamese text and translate same into Vietnamese Braille, especially with the new Vietnamese Braille software produced by Professor Dien in Ho Chi Minh University, The graphic software is also included, to enable more attractively printed textbooks. In Vietnam, there is a high visually impaired population who are victims of chemical defoliants. It is said to be 650,000 people out of total population of 80,000,000. The Educational environment had been not good enough for these visually impaired people with the lack of textbooks and other educational material.
With the Braille printer [Multi], you can print ink and Braille simultaneously; therefore you can print social studies' textbooks very fast. Nippon Telesoft cooperates producing the Vietnamese software and screen reader.
Delivery and Training Programme in Vietnam
We presented Braille printers and other Braille related equipment to the Vietnam Blind Association (VBA) in Hanoi on February 7th,2006. The training programme on handling, repairing and maintaining equipment took place between May 15th and 19th.
Mr. Dao, president of the VBA and other staff. As the Japanese government programme, through which these Braille printers were presented to the Vietnam Blind Association' explains, this scheme was implemented by virtue of the 'Grass Roots Programme' which acts as patron to developing countries.
This time, by special request of the Vietnam Blind Association, who requested; 'enhancing Braille information, we would like to support the blind and the visually impaired's education and job prospects.' Firstly, on May 15th, two of our staff visited the Vietnam Blind Association and met Dao the President and other staff for talks. They all appreciated our training programme. We set up the checking of equipment operation. We also explained how to use Braille printers and the output software.
Explaining usage of Braille printers and output software. On this occasion we developed software for their use, which was compatible with the Vietnamese language, so that they can print ink and Braille in Vietnamese. At the end of the programme, we demonstrated how to use the paper cutter, book-binding machinery, and repairing the Braille printer.
On the last day of our visit, they gave us a proper send-off ceremony. The completion of this project will be the beginning of a big step towards the availability of Vietnamese Braille information centring around Hanoi. They said "Two sets will be placed at the HQ, two sets for BO, and one set for a rehabilitation centre."
Training programme of repairing Braille printers. The photo shoot after the ceremony, with VBA staff who took the training, Nippon Telesoft staff, VBA affiliate.
Donation
5 Braille printers (DOG-Multi)

5 Laptop computers

15 boxes of paper for Braille printing(15,000)

Articles of consumption, expendable parts (for 5 sets)

1 paper cutting machine ' coupling cutter'

1 book-binding machine 'ring bookbinding