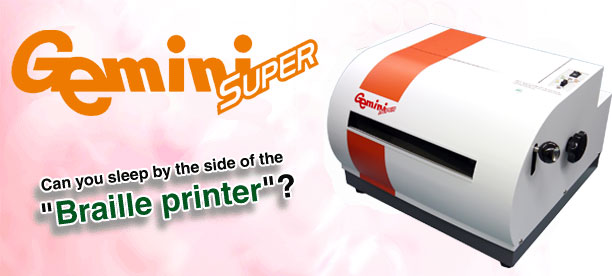 Sample
"A Braille Printer" that annoys you with its loud noise. You've given it up, haven't you? So, why don't you try to sleep by the side of " The Nippon Telesoft's Braille Printer"? You'll be amazed by its very quiet operation. Some blind person tries to touch as wondering if it's operating really. A slight sound can barely be heard, but it's comfortable to the ear.
Some says they can take a nap! Of course, you need NO soundproof box, NO soundproof room. Our printers produce very clear Braille to read and can print at higt speed. Also, you'll be satisfied their outstanding function - simultaneous parallel print " Braille & Ink." (If you don't read Braille, you can understand what is written.) We're sure our Braille Printers will extend your world of " Possibility and Chance".
Movie
Repairing
*English
how to change inkcartridge


*Spanish
Cambiar los cartuchos de tinta



Download
Manual Download

Gemini Super Pamphlet

GeminiSuper Manual

Appendix:Maintenance Switch settings

Gemini Printer Trouble Shooting Procedures
| | | |
| --- | --- | --- |
| To read this "User's Manual", the" Acrobat reader" need to be installed in your computer.If you don't have this application, please download (Free of charge) and install it following the procedure as below. | | Adobereader Download |
Print Braille and Ink simultaneously on the same page!
*Print Enlarged Ink Characters
This printer can print Ink characters Two and Four times as big as ever.
It makes it easy for weak sighted and senior citizens to see what is written.
It is possible to position Ink characters both above and under the Braille and also possible to adjust the shading.
*Rich Function For Printing Braille
Besides printing Braille,it is also possible to print 8-dot Braille and Braille Graphics. By just adjusting the line spacing, you can use it effectively in a variety of ways.
*Print at High Speed With Minimum Noise
The noise level has been greatly reduced by using Nippon Telesoft's high-tech printing method that actually pushes the Braille printing pins into the paper instead of striking the paper.
This method also allows an entire line of Braille to be printed at the same time.
*Print on Stickers & Labels
It is easy and useful in placing information on a variety of items.(Ex.) bottles, jars, CD cases.
Specifications


Braille
Ink
Types of characters
Alphabets / Numerals / Symbols Major language used in EU and Asia
Line per page
25 lines (11 * 11.5 inches paper)
Character system
6 or 8 dot Braille/Graphics Dot spacing 0.09 inches Cell spacing 0.15 inches
24 * 24 dots
Characters per line
32
92
Printing speed
36cps
90cps
Printing principal
Line printing (pushing up pins at once by biased cam shaft)
Dot matrix impact
Paper feed system
Tractor feed method
Paper
8~11 inches * 10~14 inches Continuous tractor feed paper
Interface
USB / RS-232C / Parallel
Power supply / consumption
100-120 / 200-240V 50 / 60Hz / 130VA
Size / Weight
18.5(W) * 17(D) * 12(H) inches / 24.5kg